Building semi-synthetic minimal cells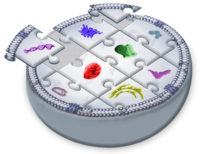 Synthetic minimal cells are programmable liposomal bioreactors capable of expressing proteins from DNA (or RNA) genome. The programmability of synthetic cell metabolism and lack of underlying endogenous live cell pathways make it ideal tool for studying natural cell pathways and circuits, and for prototyping new biological systems.
We are combining top-down and bottom-up approaches to synthetic biology; using tools of protein engineering and molecular biology, together with novel synthetic cell technologies, to understand and modulate biological processes. 
Synthetic minimal cells can help us studying basic properties of life, understand the origin of life on Earth, and give guidance looking for life elsewhere in the Universe. We aim at building models for studying diseases, for creating novel therapies and for making custom biofactories. 
We apply engineering principles to biology: we build life, or grow machines. 
This talk gives broad overview of our lab's work. 
The top-down approach involves building on the biological ensemble, modifying existing cellular pathways to explore and control biology. 
The bottom-up approach involves building chemical systems capable of mimicking cellular processes – the synthetic minimal cells, that mimic properties of live cells. Those synthetic cells allow us studying and engineering complex biological pathways, building new biological functionalities, make better drugs and novel therapy strategies, and tracing the evolutionary history of life in model protocells.
Synthetic cells are liposomal bioreactors that can mimic natural biology, as well as create new functionalities from biochemical parts. Building cells from scratch, we study the origin and early evolution of life, we study complex modern cells and explore alternative ways to do "life". We use synthetic cell technologies to make tools for metabolic engineering, drug development, and biosensing. We explore possibilities of using synthetic cells as biocomputers, and as bioreactors for space missions.
We use techniques of cell-free protein expression, liposome encapsulation and RNA engineering, combining existing synthetic biology tools and building new ones.
Lineage-agnostic biology of synthetic cells allows us to apply engineering principles to study biological processes, with an experimental platform that we control and understand, while maintaining complexity relevant to natural life. Synthetic cells can be used as both models of complex biological processes and a chassis for desininig new biological systems.
---
---
---
---
---
---
---
---
---
---
---
---
---
©2020 adamala lab, all content CC BY-NC-ND 4.0